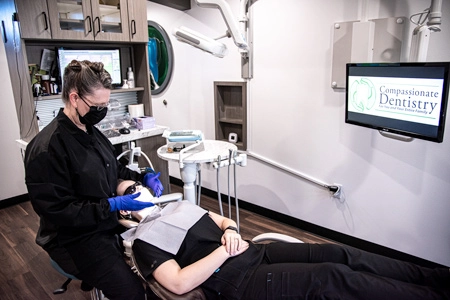 Do you have dental fear or anxiety? Are you avoiding the dentist?
Dr. Riechers is sympathetic and can help!
It's natural for us to have anxiety about the unknown or when remembering past pain or negative experiences. However, avoiding dental care because of anxiety may end up causing more stress, pain, and further anxiety when something simple like a small cavity or inflamed gums rapidly becomes much worse. And it usually costs more, too!
Dr. Sara works carefully and compassionately with patient anxiety, trying to make each dental visit as painless and worry-free as possible. Patience and education are the first steps to alleviating anxiety, but because Dr. Riechers knows that is simply not enough for some patients, she provides sedation dentistry in Grants Pass for those with dental anxiety. She understands the fear that many patients have when it comes to dental work, even if it's a simple cleaning or exam. This is why she offers sedation to those dental patients who need or want it.
"Dr. Sara is the perfect dentist for the timid (or terrified!). She'll make it easy for you to overcome your fear of dentistry!"
– Susan PM
Sedation Options
Dr. Riechers offers three options for dental sedation: nitrous oxide, oral medication and nitrous oxide combined with oral medication. All of these options can be combined with local anesthesia (numbing), to relieve pain and anxiety:
Commonly called "laughing gas", this helps the patient relax during a visit to the dentist. For most patients, nitrous oxide results in a feeling of euphoria and eases stress. This is a mild sedation and wears off quickly, usually with no side effects. This is the only form of sedation that allows the patient to drive themselves home. If your fear and anxiety over your dental visit are mild or slightly moderate, nitrous oxide may be the right choice. If you are unsure, we highly recommend a phone or in-office consultation.
Administered in the form of a pill. This is a stronger sedation and the effects can last anywhere from 2 to 7 hours. The amount of sedation experienced will depend on many factors, including the dose given, age and other medications. The sedation could be mild to moderate. The general effects are grogginess and a feeling of time passing more quickly, and it is not uncommon for people to forget part or all of their visit to the dental office or to fall asleep during treatment. In order to receive this sedation, the patient is required to have a driver.
Combining nitrous oxide with oral medication gives the greatest sedation and is best for the most fearful patients. The effects are similar to the individual agents, but more intense. Again, for this level of sedation, a driver is required.
If you are looking for a sedation dentist in Grants Pass, call Dr. Riechers. You can set up an in-office consultation or speak with her or her staff on the phone. She will be happy to answer your questions and help you determine the right type of sedation for you. Call 541-956-2177.