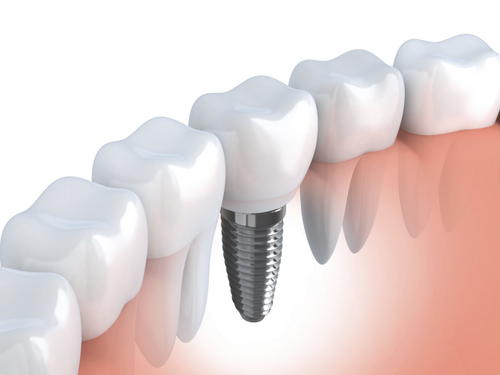 Dental implants are a great solution for replacing a missing tooth and restoring function to the area.
Overview of the Implant Process
When a tooth is no longer fixable sometimes we must extract it. Often we can plan for it to be replaced with an implant. It can often be helpful to do a socket preservation graft at the time of extraction. This just means we put sterilized freeze-dried bone into the socket to keep the bone from shrinking too much as it heals. This gives us a much better chance to have enough bone to put an implant into once it has healed.
Healing time depends on bone health and location, but we typically allow lower areas to heal 4 months, and upper areas 6 months. Then we are ready to get some imaging and see how much bone there is to work with. We take an x-ray as well as get a cone beam CT scan, which is a mini CT scan of the jawbones that lets us look at the bone in 3D on the computer. From there we do the implant surgery virtually and have a surgical guide made. At our pre-op appointment, the guide is tried in and we go over all the instructions and any prescriptions that will be needed afterward. The implant is then placed at the next appointment.
Again we allow for healing 4-6 months and then test the implant to make sure the bone is fully healed around it. At that point, the crown or visible tooth part can be made and put onto the implant. It's a process that takes time from tooth extraction to replacement, but hopefully will be around for a lifetime.
Dental implants can be a superior option to other tooth replacement options.
Frequently Asked Questions About Dental Implants
What is an implant?
An implant is a prosthesis rather than an actual tooth that is used to replace missing teeth or damaged teeth. It is a small titanium fixture or man-made tooth root that Dr. Sara inserts in your jawbone.
Are implants common?
Tooth loss is a pretty common issue which is why dental implants are very common. According to the American Academy of Implant Dentistry, around 3 million people in the US have implants and that number continues to rise.
How much does it cost?
A single tooth implant can range from $5000 to $8000 depending on the complexity of the case, the location of the bone, type of implant used and the number of implants needed to support the teeth. Most dental insurances do not cover implants. Here at Compassionate Dentistry, we accept Care Credit which offers special 1 -year-interest-free financing. We also offer cash savings for those using a self-pay option.
Will it hurt or will I have any pain?
Implants generally involve less discomfort than a tooth extraction. There are many reasons to consider dental implants including replacing individual or multiple teeth, appearance, reliability and long-term prognosis.
How do implants compare to natural teeth?
Implants cannot get cavities like natural teeth, but still can get peri-implantitis, which is the same process as periodontal disease, except around your implant, so keeping them clean is still very important. Implants tend to look and feel like your natural teeth.
 How long does the implant process take?
The implant process can last anywhere between a minimum of four months to one year.  The process starts with Dr. Riechers performing a comprehensive dental exam that will create the best treatment plan for you. After the exam and any other required pre-surgical work, you will schedule the implant surgery with Dr. Riechers. During this surgery, we will place the implant into the jaw bone. This surgery usually takes a little over one hour. After this surgery in 4-6 months, we will begin the final restoration of the tooth replacement. Allowing for this healing time can be critical so the implant process will be a success.
After the healing period, the final step in the implant process is crown fitting and abutment. An abutment is a small metal or zirconia base placed between the implant and crown.  After the abutment is in place your crown is fitted the whole implant process is completed.
The implant process is very complex and involved, but the reward is permanent replacement teeth.
Are implants removable?
No implants are not removable because they are fixed into your tooth bone. They will stay in your mouth permanently. Some implant crowns or dentures that attach to the implants can be removed if necessary for repairs or cleaning, but the implants themselves stay in place.
What are the benefits?
Implants can help improve appearance and confidence as well as function. They also can last a lifetime because they never decay.
Any drawbacks?
Negative effects are usually rare. However, there is a chance of pain and inflammation or an infection. There is a risk for potential long-term complications. Some of these complications include gum recession., nerve or tissue damage, sinus issues and a loose implant.
What is the success rate?
Implants have a very high success rate up to as high as 98%. It is the closest thing you can get to natural teeth. They can last a lifetime without decay with proper brushing and flossing.
Have any more questions?
Give the fantastic team here at Compassionate Dental of Grants Pass a call today to schedule an exam and we'll determine the best route forward for your dental needs! Proudly serving Grants Pass, Medford, and all of the Rogue Valley.