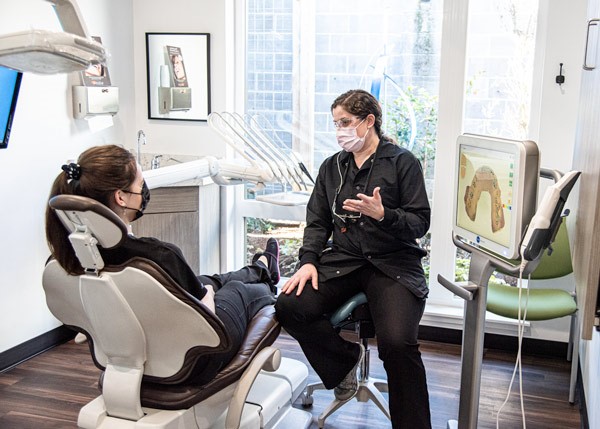 What to Look for in a Dentist
A new year calls for a new smile. Get a jump start on your spring cleaning by booking your next dental appointment now. For many people, you go to the dentist when it hurts, not when you're supposed to. But did you know that good oral health leads to good overall health? When you don't take care of your mouth, a lot of bad things can happen that affect your physical and mental health. That's why it's important to find a dentist for you and your family. Finding a dentist, however, is easier said than done. That's why we've compiled a list of things you should look for in a dentist.
1. Good reviews and referrals
The people in your life are some of your most trusted advisors. If they've had a good experience somewhere, you're more likely to go there yourself. That's why referrals and reviews are a great place to start. Knowing the testimonials of other people is one of the most honest ways to find out if any service or establishment is worth your while. Especially when it comes to something like the dentist. Maybe you grew up fearing the dentist or you just don't like the whole experience, but it is a necessary part of taking care of yourself. That's why a great place to start is where someone else has already been.
2. Experience and education
This is a given, but absolutely necessary. When it comes to those in charge of your health, you want to make sure you're not their first patient. While most educations are comparable to each other, there's still a certain level of knowledge that can only come with experience. So, knowing where your dentist and their technicians went to school and how long they've been practicing is very important. For example, here at Compassionate Dentistry, we are completely open and transparent with experience and education levels. Dr. Sara Riechers and her staff have received top-notch educations and have been working in the dental field for years. Compassionate Dentistry has been open for over 10 years alone, so you can trust she knows what she's doing.
3. Specialty Care
Sometimes people need a more advanced level of care. Maybe the work you need is a highly specific type of work, like dental implants. Or maybe you're looking for a general dentist who will be able to serve you and your family's general dentistry needs covering most every area and who will recommend a specialist if necessary. Some doctors will be able to provide specialty care as well as doing general dentistry, depending on their level of education and experience. Compassionate Dentistry, for instance, provides general family dentistry as well as things like implants, invisible aligners, tooth replacements, and more. We do use our team of specialists when necessary, but we are able to do most care in-office.
4. Insurance
This isn't applicable for everyone, but if you have dental insurance you're going to need to make your insurance allows you to go to the dentist you want. You can do this by calling the dentist or your insurance company. Be aware that there are many rules and limitations with insurance companies. If you do not have dental insurance through an employer, it can often be better to set aside some money on a regular basis to fund your own dental care that you need and want so you have more freedom to spend those dollars  how you see fit, rather than get a discount plan that covers very little and dictates what care you are able to receive.
5. Compassion
This isn't a typical thing people will tell you to look for, but it should be. Compassion in all your medical providers is essential. You are partners in your health and you want someone who understands that and works with you rather than just telling you what to do without considering things like lifestyle, ability, and side effects. Finding a doctor who not only understands but takes into account the fact that you're a human who isn't perfect is crucial to receiving the care you deserve. At Compassionate Dentistry, our stance on this is in our name. Dr. Riechers is focused on providing the best quality of care that is available for every single one of her patients. Her dental practice is founded on the creation of lasting and meaningful relationships with her patients and being an active member of her community. Our staff of dental professionals wants to do everything they can to relieve such distress, or even better, to prevent it from happening.
Whether you go solely based on a recommendation or you care more about how long your dentist has been practicing, the choice is yours. When it comes to you and your family's oral health, Dr. Riechers and her team are going to be the most dedicated, kind, knowledgeable doctors to help you throughout every stage of your life. From those first few teeth to crowns and bridges, Compassionate Dentistry is there along the way to heal with a gentle touch. For more information on the services we offer, visit our website.